okgourmet.com&nbsp &nbsp Home of Steve's Restaurant Reviews
Young Vin Restaurant (Closed)
5600 Dyer St.
El Paso, TX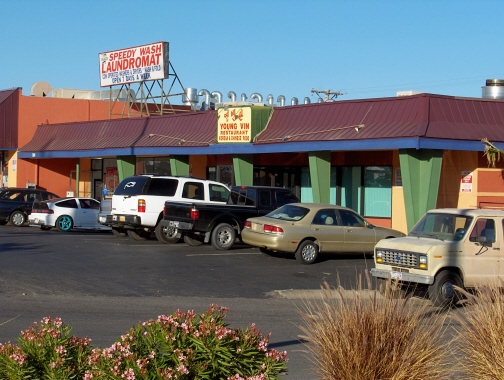 Young Vin is the oldest Korean restaurant in the city that I can remember, and my first few visits served as my introduction to Korean food. The most popular dish was always the Korean Barbecue Beef, especially the one served as the lunch special. I have every reason to believe the barbecue is still as good as ever, and is probably the best in El Paso.
One item I have tried recently is the Kimchee Soup. Since I had a recent experience of eating an excellent kimchee soup in Oklahoma, the one here provided a good comparison. Some obvious comparisons were that the soup here was smaller, more expensive, and there were fewer side dishes. In addition, though, the broth was not quite as flavorful as the one I had experienced in Oklahoma. I ended up thinking the meal was good, but for the money spent, and compared to other Korean restaurants (even the Kal Bi House a couple of blocks away), it was not a very good bargain.
Probably the worst part was that there was no Korean iced tea (they always had it in the past, but according to the lady at the counter it is no longer very popular). Even the hot green tea served was not Korean tea (and was very expensive to boot!).
It was also surprising that the vegetable side dish servings were very small (again, a change from the way the restaurant was in the past). Largely because of the lack of vegetables I went away from the meal not feeling very full. I did not particularly mind this, except that for the same money I could have had a feast at a number of other Asian restaurants.
I know the lunches are more reasonable, and the barbecue beef is very popular. At least for this dish, Young Vin is still one of the best in El Paso.
RESTAURANT DETAILS
RATING: 18
Cuisine: Korean
Cost: $$
Hours: Open Daily
Tea: Iced Tea
Smoking: No Smoking
Most Recent Visit
Jun. 18, 2005
Number of Visits: 10+
Best Item
Barbecue Beef
Special Ratings
Barbecue Beef:


Kimchee Soup:


Kimchee:


Vegetable Side Dishes:

MORE ABOUT THIS WEB SITE