okgourmet.com&nbsp &nbsp Home of Steve's Restaurant Reviews
Red Rooster Café
209 W. Washington St.
Anthony, TX
(915) 886-3663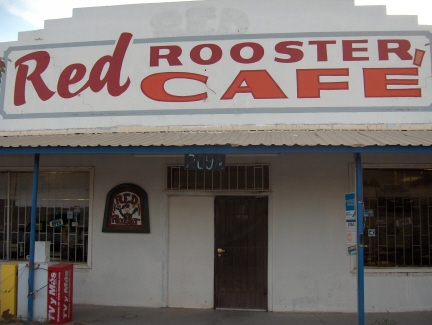 Red Rooster received notoriety when Senator Kerry ate there on the way back to the airport from one of the seemingly innumerable campaign stops in southern New Mexico, and I had heard that the food there might rival Chope's in La Mesa, NM, a few miles to the north.
In fact, Red Rooster has many similarities to Chope's--the building is about the same age and both are very casual, rural style restaurants. Red Rooster reminds me a little of Casa Grande in Albuquerque in that it is mainly a diner that serves Mexican food, rather than a Mexican restaurant per se.
All dinner plates at Red Rooster come with a dinner salad, as well as chips and salsa. In fact, the Salsa is probably one of the outstanding items served, with the one here being representative of the Borderland with a fresh flavor and lots of kick. The Salad was also quite good--maybe it is not quite up to par for the average steak house, but to me the lettuce, tomatoes, dressing, and croutons all tasted good.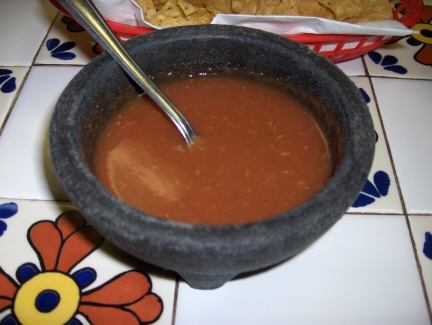 Red Rooster's salsa is not as innocent as it looks
Starting with a salad, chips, and salsa, patrons then decide whether to order American food or Mexican food. I have not tried the American side of the menu, and being familiar with the Anthony area I would suspect that the cooks would have more expertise in preparing good Mexican food. I am pretty sure when dignitaries visit they are not going to order American food.
With Red Rooster located a few hundred feet from the New Mexico state line, I was expecting the food to be New Mexican style. It is actually very similar to the food served throughout El Paso, which is mainly characterized by sauce on the chile relleno and additional spices mixed in with the red chile on the enchiladas. Chope's is less than twenty miles away, but I would say it serves a different style of Mexican food, and is a classic southern New Mexico style restaurant. Around the Borderland it seems that cooks grow up eating a certain style of food and when they begin preparing it themselves they continue the same tradition even though other restaurants in the area may serve something different. The exception to this rule seems to be Little Diner in Canutillo, Texas, that is sort of "half El Paso style, half New Mexican."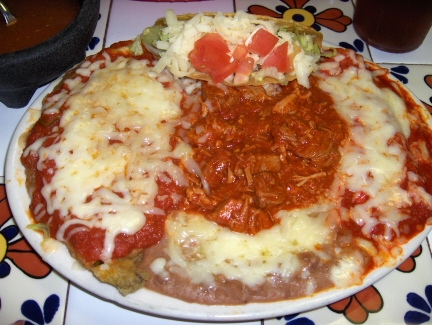 Mexican plate with chile relleno, taco, red enchilada, beans, and chile colorado in the center
Red Rooster offers three combination Mexican plates to sample different dishes, with No. 1 being the smallest and No. 3 being almost enough for two persons. The plate pictured in the photo is the No. 2, which differs from No. 3 only by excluding a gordita.
Red Enchiladas come on all the combination plates, and have enough spices so that they are definitely not New Mexico style. In fact, I do not think they are very good for El Paso style enchiladas--they taste good but have a strange texture, almost as if the red chile is not puréed enough, and you can taste hard chunks of chile throughout the sauce.
The Green Enchiladas have puréed chile rather than chunks of chile typically served in New Mexico. I think the chile must be local but I do not care much for the way it is prepared.
The Chile Relleno starts with a chile that is not terribly spicy but I think is fresh and has a good flavor. The cheese inside was like the Muenster cheese served at Little Diner, and is one of the keys of making this an enoyable dish. I thought the batter was a little on the chewy side, but I have had a lot worse at a lot of other restaurants. No egg batter seems to compare to the one served at Chope's, but the one at Red Rooster is not bad. Red Rooster has its own version of a Spanish sauce served on top of the relleno--a mild tomato flavored topping that I think has a very good flavor. Other than the cheese I do not think there is anything else outstanding about the relleno, and in such cases I think a fresh sauce with good flavor is an enhancement that can turn a dull relleno into a very good one, as is the case here.
Chile Colorado is one of the choices served on the combination plates (the other is chile verde). The red (colorado) chile I tried had a mild but flavorful sauce with large chunks of tender pork. I tought the flavor of the chile definitely made this dish worthwhile ordering, although, there are better ones in Mesilla and probably throughout New Mexico (few in El Paso are as good as this one, though).
The Beef Taco was fresh and flavorful, with a light spicing that made it quite good. The white cheese that came with it was quite good, and the frequent use of white cheese is probably one of the advantages El Paso style Mexican food has over most of the plates served in New Mexico.
Some of the food at Red Rooster has a good flavor, although the more I try the enchiladas the less I like them. I like the fact that the food is cooked in vegetable oil. The relleno was quite substantial and one is almost a meal in iteself. The taco and chile colorado were also good, although I did not think anything stood out to the point that it would be worth making a trip to Anthony if you are not already in the area. The Salsa is about as good as anywhere, but many other restaurants also make good salsa. One of the best features of the meal is that you get a salad with it that is not exceptional but is fairly good by El Paso standards.
Red Rooster seems to be very popular as a local Anthony hangout, and I know from experience that it is a lot better than the truck stop located at Anthony Exit 0 on Interstate 10. As a destination for Mexican food, though, the problem is that there is so much competition. Some of my absolute favorite Mexican restaurants are less than twenty miles away (both north and south of Anthony). You really cannot go wrong, though, with just about anything you find in the Mesilla Valley where the Rio Grande runs through southern New Mexico and far west Texas.
RESTAURANT DETAILS
RATING: 21
Cuisine: Mexican El Paso
Cost: $$
Hours: Open Daily for lunch; Dinner Tue. - Sat.
Accessible: No handicapped parking
Cooking Oil: Vegetable
Smoking: No Smoking
| | |
| --- | --- |
| Chile Index: | |
Most Recent Visit
Jun. 5, 2007
Number of Visits: 3
Best Items
Chile Relleno, Salsa, Beef Taco, Chile Colorado
Special Ratings
Chile Relleno:

tomato sauce on top
Red Enchilada:


Green Enchilada:


Beef Taco:


Chile Colorado:


Refried Beans:


Salad:


Chips:


Salsa:

MORE ABOUT THIS WEB SITE