okgourmet.com&nbsp &nbsp Home of Steve's Restaurant Reviews
Ramon's Mexican Restaurant (Closed)
1071 Country Club Rd.
El Paso, TX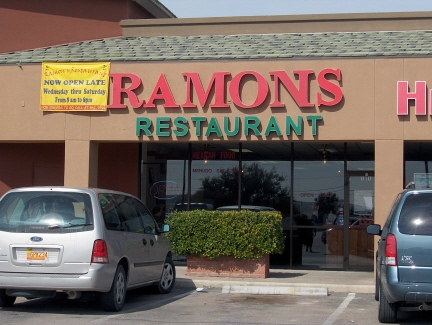 Ramon's is one of a number of small neighborhood Mexican restaurants located in the Borderland, and the menu is not much different from the majority of other places. The food is higher quality than many other places, however, so anyone in the west El Paso or Santa Teresa, New Mexico area might want to give Ramon's a try.
Red Enchiladas are one of the standard items I like to order at Mexican restaurants. While many of them leave me disappointed, the ones at Ramon's had the deep red color and rich flavor I associate with El Paso style Mexican food. These were some of the best ones I have tasted in the El Paso area.
The Chile Relleno was greasy and had too many seeds left inside, but had good cheese and overall was above average.
The Refried Beans were delicious and were notable for the lack of grease. Cooked with vegetable oil, I think they dispel the myth that beans have to be made with lard to be good.
The Rice had a nice tomato flavor and the chunks of carrot mixed in were good. The main thing that made it notable was the fact that it was not overcooked and the moisture was still intact. This stands in stark contrast to the majority of restaurants, particularly in west El Paso, that dry out or even burn the rice to the point that it is no longer an enhancement to the meal as Mexican style rice should be.
I tried a Chicken Taco that had a very nice, somewhat soft shell. Although the chicken was white meat, it did not have a particularly good flavor. I think the taco served with beef would be excellent, but I was not overly thrilled with the chicken version.
Ramon's specializes in steaks and meat dishes, and daily steak specials are sometimes available. While this is typical for small Mexican restaurants, I am somewhat surprised that a place that mainly serves beef dishes has such good enchiladas.
Drinks are limited to sodas and tea (I do not think beer is served). To me the main drawback of Ramon's is that it does not offer fresh squeezed lemonade or Mexican fruit drinks.
RESTAURANT DETAILS
RATING: 21
Cuisine: Mexican El Paso
Cost: $
Hours: Lunch Daily; Dinner Wed.-Sat.
Cooking Oil: Vegetable
Smoking: No Smoking
Special Features: Serves Breakfast
| | |
| --- | --- |
| Chile Index: | |
Most Recent Visit
Jul. 19, 2006
Number of Visits: 1
Best Items
Red Enchilada, Beans, Rice
Special Ratings
Red Enchilada:


Chicken Taco:


Chile Relleno:


Beans:


Rice:


Chips:


Salsa:

MORE ABOUT THIS WEB SITE