okgourmet.com&nbsp &nbsp Home of Steve's Restaurant Reviews
Peppe's Restaurant & Cantina
6761 Doniphan Dr.
Canutillo, TX
(915) 877-2152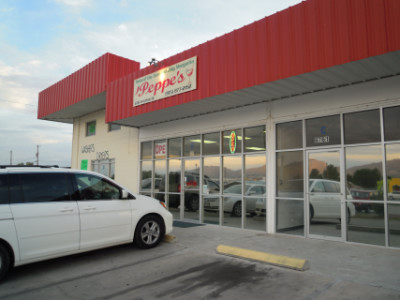 Perhaps my favorite long time El Paso restaurant was Griggs Restaurant, located on Doniphan Drive about a mile north of Country Club Road. There was a branch on the east side near the airport, and a short lived location on Mesa Hills, but the west side restaurant always seemed to be the Griggs family's "baby" until they retired and the franchise was taken over by new owners. The Griggs family came back to reopen the Doniphan Drive restaurant after the new owners had decided to concentrate on the airport location and the Doniphan location had closed. For a short time until my last visit to Griggs Family Restaurant on Doniphan in 2003, I thought the food was as good as I had remembered on my early visits. In any case I received quite a bit of mail from people who agreed with me that they really enjoyed the "old" Griggs Restaurant, but found the east side location to be inconsistent.
I heard that the east side Griggs Restaurant closed sometime around 2008, and unfortunately it was related to the health of the owner. This led to an agreement between the owners and a long time chef at the west side Griggs Restaurant that the latter could open his own restaurant using the Griggs family recipes. Thus I am happy to report that Peppe's Restaurant & Cantina is now open in Canutillo, Texas, about two miles north of where the original Griggs Restaurant was located.
Both of the former Griggs Restaurants were probably as famous for their antique furniture and artifacts as for the food, and both were in spacious buildings that resembled haciendas. Peppe's Restaurant is in a small storefront location in a strip mall, with only a few of the antiques from Griggs Restaurant on display. The food, though, is the same as at Griggs, with just about every menu item being copied from Griggs' menu. Even though the "old" Griggs became inconsistent near the end, Peppe's has succeeded in replicating many of my best memories of this El Paso institution.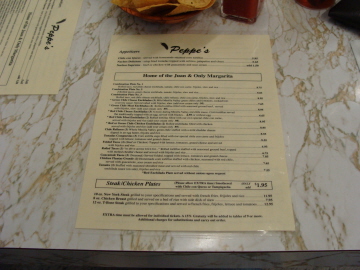 This is the Griggs Restaurant menu with a new name
With Peppe's Restaurant being small and the owners always present, I think the food will keep the consistency I found at the old Doniphan location of Griggs Restaurant. Of course the advantage of using recipes that are as old as the ones from the Griggs family is that they are time tested, but the disadvantage is that there will not be much innovation in the food. For me, I am happy to go with something I know and have enjoyed most of my life (since I was eating at Griggs with my relatives before I moved to El Paso). There are some things at Peppe's I am unable to find in other restaurants, such as the combinations of dishes offered on the combination plates. Even though I would not claim that every dish at Peppe's is the best I have ever tasted, for me it is the ultimate "comfort food," offering food that I really enjoy and that matches my early memories of it.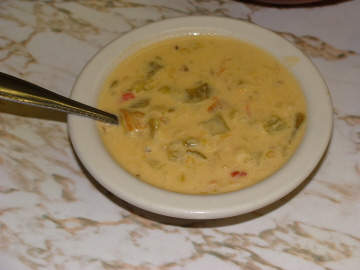 Half order of chile con queso
I know that other restaurants have good Chile con Queso, but I had to try it at Peppe's just to remember what it was like when I had it a Griggs, offereing one of the first and best examples I had experienced. The cheese at Peppe's is a little thicker than is usually found, offering the reason people will either like it or dislike it here (depending on your viewpoint), but I am glad it is more of a solid than a liquid. The green chiles were fresh and flavorful, but not of the ultra hot variety.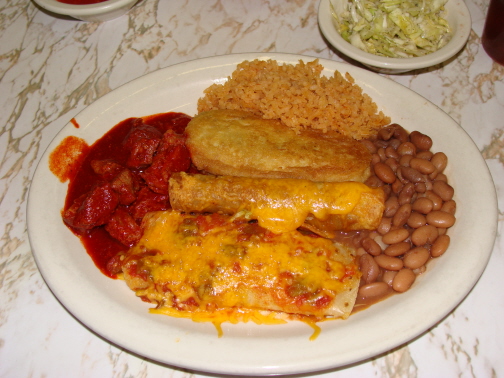 Combo plate with chile con carne, green enchilada, rolled taco, chile relleno, rice, beans, and slaw
The Combo Plate #3 on the dinner menu is a good way to sample some of the best dishes (there are also some lunch combinations that I particularly enjoy). Green Enchiladas may be the best item at Peppe's, using New Mexico chiles for a very flavorful blend of chile, cheese, tomato, and tortilla (but not as spicy as most of the ones in Las Cruces).
There is no question in my mind that the Chile Relleno is the other "best dish" at Peppe's (although I think one of the things that makes Peppe's unique is the combination of items that can be ordered together, making the sum sometimes more enjoyable than the individual parts). Peppe's serves the chiles rellenos New Mexico style, with no sauce on top. The chile, cheese, and batter are all much better than average, making it unnecessary to add a sauce (and in my mind it would be an adulteration of the dish to do so). The trick of the cheese is to cook it just right, and I had quite a few at the old east side Griggs that were either too runny or too hard, leading to an increasing infequency of my visits. I think Peppe's, though, has it just right.
Another notable item is the Chile con Carne, made with pork and red chile. This was one of the spicier items served, and I particularly like it on one of the lunch combinations where it is served on a crispy tortilla shell. As one of the main items on the dinner plate (shown in the picture), I thought the meat was better quality than I had remembered from before, but I did not like the chile as much. Even though Peppe's has its own unique food that may not be fair to compare to anyone else's, in this case I have had enough red chile in New Mexico to have developed opinions about the ones I like the best. Just because Peppe's does not have my favorite, though, does not mean I enjoy it any less.
The Rolled Taco is an item I often substitute because I am usually not a big fan of ground beef, but the one at Peppe's is quite good. It tasted as if it were mixed with potato, and everything was simple but prepared well.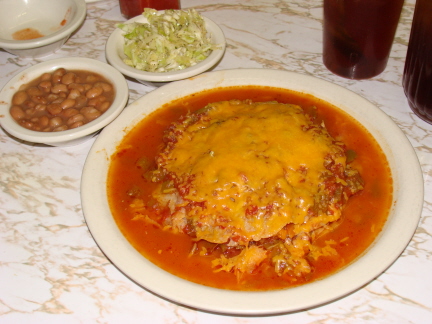 Green enchiladas are New Mexico style
I think the best way to order Green Enchiladas is flat, since they seem to have more chile and more flavor (single enchiladas are usually served rolled, as it is on the combination plate). Stacked (flat) enchiladas seem to have more sauce, and I think this is the best way to enjoy one of the best versions of this dish I have tried in the El Paso area.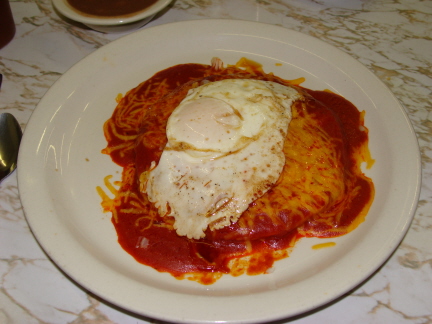 Red enchiladas with an egg on top
Red Enchiladas are also quite good, and are prepared New Mexico style (with more of the chile flavor coming through than in the El Paso style enchiladas). These enchiladas are spicier than the green ones, but mild compared to ones found in Las Cruces or northern New Mexico. Even though I like red enchiladas better than green in about ninety percent of New Mexico style restaurants, the green ones are still my favorite at Peppe's. To me the red enchiladas here are mainly good on a combination plate with other items, but when ordering them alone it is good to ask for an egg on top (as shown in the photo).
The Rice is excellent, with a good mixture of flavors. Its moisture content indicated that it had not been sitting around for a long time.
Peppe's serves whole beans by default. It is really hard to judge these compared to others, since preparing them is pretty straightforward. I prefer these, though, to just about any refried beans that are served in El Paso.
The Slaw is notable for being one of the best, although slaw in El Paso Mexican restaurants is still somewhat of a novelty, and there are few other examples with which to compare it.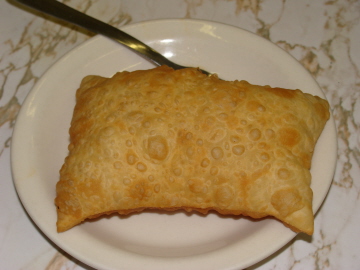 Sopaipilla for dessert
Peppe's charges extra for a Sopaipilla, as did Griggs Restaurant. Although some restaurants serve sopaipillas for dessert, it is traditional with New Mexican food to eat the sopaipilla with the meal, especially if the food it spicy enough that a bread would be desired to cut the fire. In this case, though, I thought the sopaipilla was too thin and crumbly to be eaten successfully with the meal (especially if you like to use it to dip in the chile). It is good for dessert, though.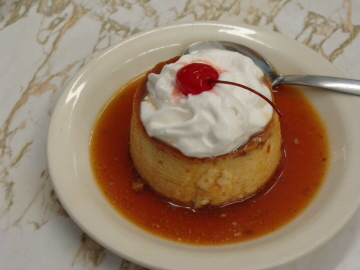 Flan
Other desserts are also available, such as Flan. I do not know if this is one of the items from the Griggs family recipes, but I was more impressed with it than the sopaipilla as a dessert.
One of the little things that I particularly enjoy about Peppe's, is the fresh Corn Tortillas that are served with the meal on request (that really substitute for ordering a sopaipilla with the meal). The tortillas are made fresh daily at a nearby tortilla factory, and I think are excellent.
The Griggs family not only operated Griggs Restaurant for years, but other relatives owned La Posta in Mesilla, New Mexico and El Pinto in Albuquerque. In my mind, though, Griggs always had the truest New Mexican style flavor (even though the other restaurants were using the same recipes), and Peppe's has not changed what the Griggs family was doing. I think there is a reason a large number of people in El Paso were loyal to Griggs Restaurant, and these people now have a place to find the same food.
RESTAURANT DETAILS
RATING: 22
Cuisine: Mexican New Mexico
Cost: $$
Cooking Oil: Vegetable
Accessible: Yes
Smoking: No Smoking
| | |
| --- | --- |
| Chile Index: | |
Most Recent Visit
Jul. 30, 2010
Number of Visits: 3
Best Items
Green Enchiladas, Chiles Rellenos, Slaw
Special Ratings
Green Enchiladas:


Red Enchiladas:


Chiles Rellenos:


Chile con Carne:


Rolled Taco:


Rice:


Slaw:


Chile con Queso:


Chips:


Salsa:


Flan:


Sopaipilla:

MORE ABOUT THIS WEB SITE