okgourmet.com&nbsp &nbsp Home of Steve's Restaurant Reviews
Matsuharu Japanese Restaurant
4886 Hercules Ave.
El Paso, TX
(915) 751-9355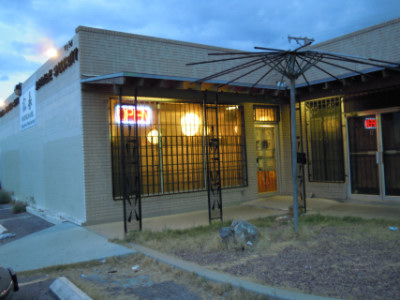 If there was ever a hidden gem in El Paso, I believe Matsuharu is it. Located off the street in an obscure strip mall on a little traveled street, Matsuharu Japanese Restaurant is not very obvious from the street and many long time residents may not even know it exists. Customers seem to come due to word of mouth, or possibly some people remember the Ginza Japanese Restaurant that operated for years at the same location.
I believe a major factor that keeps Matsuharu in business is its popularity with the Japanese population in both El Paso and Ciudad Juarez who are in the area as a result of the maquila (twin plant) industry. Just as in Seattle, where one of the best guides to a Japanese restaurant's quality and authenticity is the number of Japanese customers it attracts, the same is true in El Paso. While I see Japanese business people and other customers at the other restaurants, Matsuharu seems to be the most popular and attracts the most loyal following.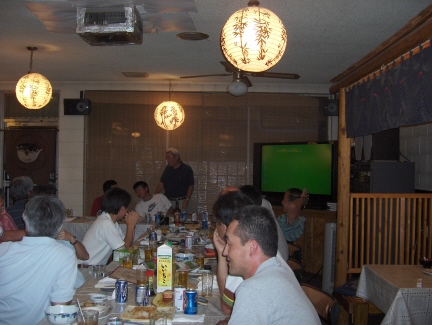 Large parties come to enjoy an Izakaya style meal and some karaoke
Matsuharu frequently hosts large parties from the Japanese companies, and while this makes the kitchen very busy, they still provide the same friendly service to other customers who come in. I believe the large parties provide a great opportunity to expand a person's experience in Japanese cuisine, and this is a good time to ask the staff if any special dishes are being prepared that evening for the large party that can also be served to other customers. Sometimes the chefs will prepare special dishes and sometimes it is just a matter of ordering something the restaurant makes available all the time but which may be a new dish to you.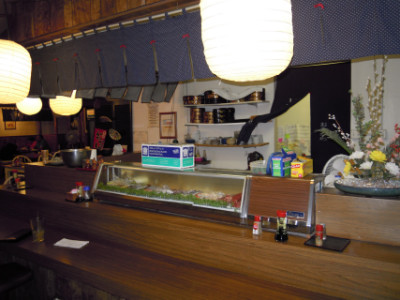 Matsuharu's sushi bar
There are plenty of choices on the menu that I think will keep me satisfied for a number of visits. These include noodle dishes, appetizers, meats, fish, soups, and much more. Sushi is available, but the owner, who serves as both one of the regular chefs and the sushi chef, keeps the selection small so that good quality can be maintained. Matsuharu strives to provide all different types of Japanese cuisine, and to provide much the same experience as a person would receive at a high quality restaurant in Japan.
A Japanese menu is available if you want to expand your horizons beyond the regular menu. The supplemental menu is not an attempt to keep certain items "secret," but rather that certain items do not translate well into English and the management would rather explain them verbally than try to do so on the menu. I think this may be particularly true with certain types of fish that are familiar to Japanese people but are not well known in the U.S.
The fish at Matsuharu is flown in from Los Angeles, and this makes it some of the freshest in El Paso (and I was informed that the fish used for sushi is never frozen before being used). It seems to me that the owner has always put a high priority on serving fish that is worthy of representing the cuisine of a nation that largely lives off of its fishing industry.
Sushi with Hamachi and Unagi
When many people think of Japanese restaurants, Sushi is the first thing that comes to mind. Personally, there are so many other Japanese dishes I love that I rarely make a meal exclusively out of sushi. Nevertheless, Matsuharu offers enough choices to provide a sushi feast if that is the customer's desire.
A couple of the Japanese restaurants on the east side make good California rolls, but even if the one at Matsuharu is better (which I suspect it may be), this is not something I consider to be the ultimate sushi test.
Since I usually order nigiri style sushi, I tried the Hamachi, or yellowtail at Matsuharu. This is a light fish similar to tuna, and has been described as having a buttery taste. I thought the one here was good quality fish, and most likely came from Japan where the more desirable varieties of yellowtail are found. It did show some signs of losing some of its freshness through the transportation process, as I would expect in a city that is so far from the ocean and from major distribution centers. The flavor and preparation, though, were excellent. Overall I would say it was about in line with others I have tried in good sushi restaurants in the Southwest.
Unagi, or fresh water eel, was an even better nigiri selection. This variety is cooked and then served as sushi. I thought this was the standout of the sushi I tried at Matsuharu, with an excellent flavor and a freshness that I would expect to find in many of the best U.S. restaurants. Omakase is the practice of asking the sushi chef to serve the best selections the restaurant has to offer, and I appreciated the chef's suggestion of this dish.
My introduction to the fish at Matsuharu was the cooked Salmon Teriyaki dish, a type of fish I have ordered at other Japanese restaurants in the city as well as out of town. This salmon had a good flavor and red color that made me think at first that the restaurant had a special supply line from the fish markets on the Pacific coast. Now I think the fish is shipped normally, but they simply buy a higher quality fish than is usually found. The sauce was not too sweet, something that downgrades many teriyaki dishes that are otherwise good. This is still one of my favorite dishes at Matsuharu even though El Paso probably does not have the same varieties of salmon that can be found in the Pacific Northwest.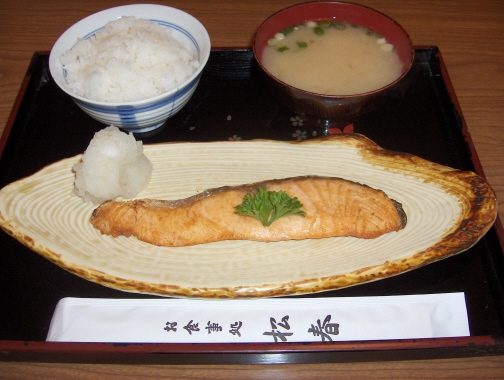 Salmon plate
The Salmon I tried without teriyaki sauce was of equal quality, with a fatty type of fish served that had a good flavor. It did not seem to be Alaskan King, but it was probably the next step down in redness and flavor, which to me is more than acceptable.
Tempura Udon has been one of the best dishes at Matsuharu, and I prefer it to the others served in El Paso. The dark broth had a deep, rich flavor that is seldom found in restaurants, so even if the other components fell short it would still be enjoyable. The noodles, though, tasted fresh, and the tempura was of such high quality that I think it may even stand out more than the broth. The Vegetable Tempura contained a mixture of fresh vegetables cooked together that made it one of the most enjoyable I have ever experienced. The Shrimp Tempura was fresh and non-greasy. The batter on the shrimp was quite different than I frequently find, and was more suitable for dipping into the soup than others that are more flaky and that fall apart when served in the soup. Although I like some of the others served in El Paso, the one at Matsuharu seems to be more traditional and is definitely the one I would recommend.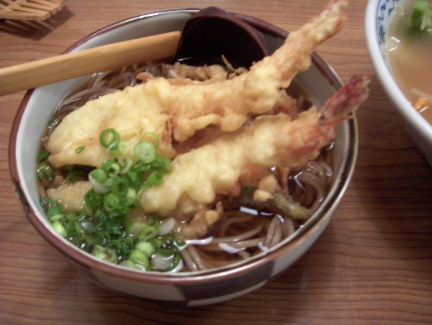 Tempura soba with shrimp
Tempura Soba is made the same way as the udon, only with dark noodles that I found to be even more enjoyable than the udon dish. So far I think this is the one dish I have enjoyed the most at the restaurant. Of course, one of the great things about Matsuharu (and most Japanese restaurants) is that meals do not usually consist of just one item, but usually come with soup or appetizers. Both the tempura soba and tempura udon, though, are fairly complex soups that really make a meal in themselves.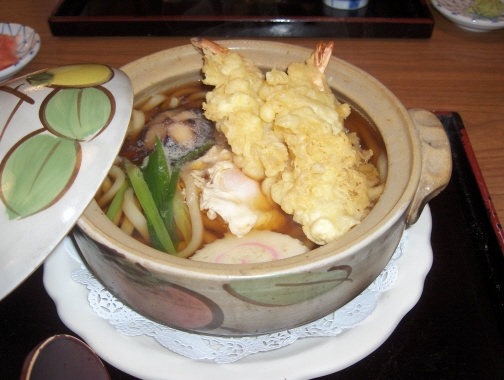 Nabeyaki Udon with shrimp tempura, egg, fishcake, green onions, and mushroom on wheat noodles
Nabeyaki Udon is another style of noodle dish that provides all the elements for a balanced meal: wheat noodles, shrimp tempura, egg, fishcake, green onions, and mushroom. I found it to be much like the tempura udon but with extra ingredients, making it extra good. The shrimp tempura alone would make it worthwhile, and the broth has the light flavor I find in a lot of the better soups.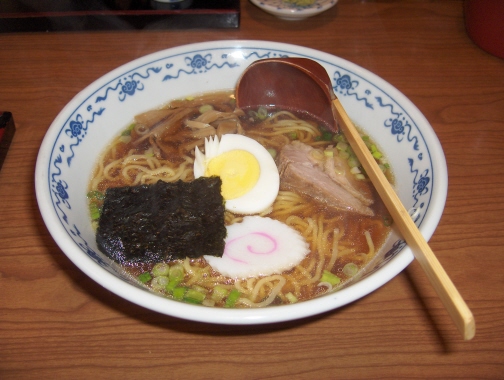 One of the three types of ramen served at Matsuharu
Ramen is not a dish I see frequently in Japanese restaurants, and when places such as Matsuharu serve it, this indicates to me that they have a greater than average skill in preparing traditional Japanese cuisine. Matsuharu actually serves three styles of ramen, and after trying one of them I am quite anxious to taste the other two. Wikipedia indicates that different styles of ramen are popular in different regions of Japan, and that all ramen soups have their origins from Chinese noodle soup. While a bowl of soup may not sound as if it would make a substantial meal, the ramen here (and at other good Japanese restaurants) provides a balance of ingredients, flavors, and textures to leave just about anyone satisfied. I particularly liked the soy sauce based broth that brought flavor to the noodles and everything else that was packed into the bowl (including egg, spinach, and pork). The other two varieties of ramen at Matsuharu are miso ramen, made with a bean paste soup, and ankake ramen cooked with pork and bean sprouts with potato starch. There are two types of pepper on the table that are meant to enliven the different soups that are served, if the customer is so inclined.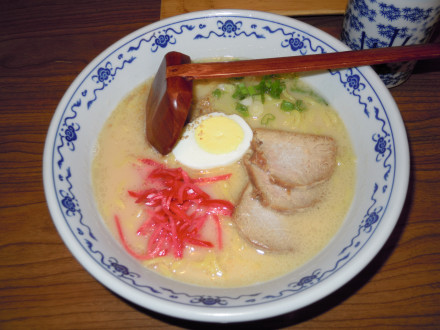 Tonkotsu ramen
Tonkotsu Ramen was a "special dish" in the sense that it was not listed on the menu, but it is available on request. This was an excellent ramen made with pork broth, ramen noodles, and had a ginger flavor in the broth. I thought it was equal in quality to the other ramen, but provided a variety to give patrons an even greater exposure to Japanese food.
Miso Soup comes with some meals and costs extra with others. This is definitely top quality, as will be very evident if you have ever gone to restaurants that seem to make it from a mix.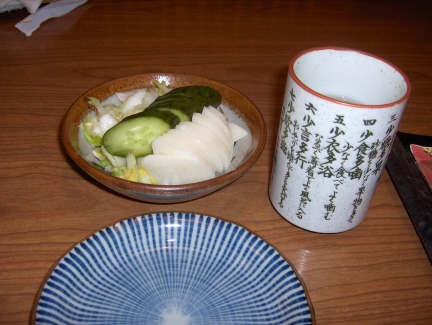 Oshinko appetizer
Appetizers are always included, although they have varied between visits. The complimentary ones I have received have not been as outstanding as the miso soup, but some very good appetizers are available on the menu and as special dishes.
Green Tea is served free with every meal, and is hard to beat. Matsuharu also serves an iced green tea drink that is surprisingly delicious, and great during the summer.
Special Dishes
Many of my best experiences at Matsuharu have come from ordering the same things I see at other tables, primarily when there is a large group of people who order specials or items from the Japanese menu. I think the majority of the food, including the specials, is available anytime. It is just a matter, though, of knowing what to order and knowing if you would like it after you order it. With Japanese food it seems to help a lot if you can see it first. I normally think it is impolite to look at other people's food in order to "check it out," but when Matsuharu hosts a large party there is usually a discreet and polite way to ask other patrons for their recommendations.
One of the all time best dishes here was a Japanese Flounder from the Japanese menu whose proper name I do not know. The owner said it is similar to the flounder from American waters only with the eyes on the opposite side This fish was fresher than the salmon, cooked to perfection, and had a wonderful flavor (I even ate the skin--I don't know if it was because the fish was so good or because it was cooked so expertly). I find it a little amazing that many Americans prefer white fish fillets to many of the more flavorful fish typically served in Asian restaurants and around the world. If the idea of a whole fish with the bones intact does not appeal to you then this is not a good choice, but it is one type of fish I enjoy when I can get it.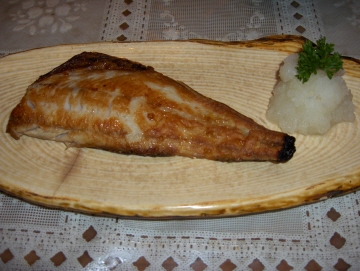 Hokke from the Japanese menu
For those who do like white fish, a Hokke fillet is also available, and is good quality. To me it was more the light cooking style that made this fish desirable than the fish itself, but it is something I would order again if I were not in the mood for salmon or one of the darker fishes.
An order of Red Snapper that I tried on one visit did not taste as good to me as the others I orderd, but is still something I would recommend.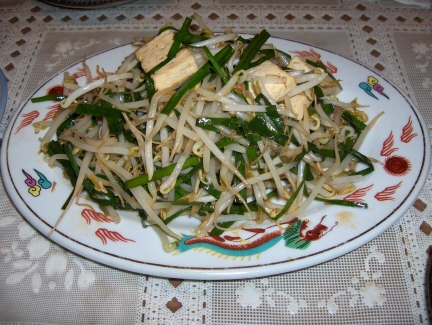 Chanpuru appetizer of tofu and bean sprouts
Chanpuru, an appetizer made of tofu and bean sprouts was an excellent appetizer that the restaurant made for a large party, and was available to other customers as well. I do not generally care much for bean sprouts, but this had quite a surprisingly good flavor, being stir fried with a soy sauce seasoning. "Chanpuru" is a general name given to dishes from Okinawa that are stir fried with vegetables and tofu, and I am very glad I got to try Matsuharu's version. The miso soup, salad, and other appetizers I have tried have led me to the conclusion that the dishes served before the main meal are an integral part of the high quality found at Matsuharu.
The restaurant recently started opening all day on Saturday and Sunday, so it is now possible to go for lunch on weekends. Tempura and sushi are not served at lunch, but the selection is still quite extensive. I would say Matsuharu is very serious about its food, as is shown by the very expert ramen, tempura, and other dishes that are served. I think most people who try it for the first time will be sorry they have missed it for so long.
RESTAURANT DETAILS
RATING: 24
Cuisine: Japanese
Cost: $$
Hours: Dinner Tue.-Sun.; Lunch Sat. & Sun.
Accessible: Yes
Tea: Green (brewed) House
MSG: No
Smoking: No Smoking
Alcohol: Beer, Sake
Most Recent Visit
Aug. 27, 2010
Number of Visits: 9
Best Items
Whole Fish, Tempura Udon, Tempura Soba, Ramen, Salmon Teriyaki, Miso Soup, Appetizers
Special Ratings
Salmon:


Salmon Teriyaki:


Whole Fish:

from the Japanese menu
Ramen:


Tempura Udon:


Tempura Soba:


Nabeyaki Udon:


Miso Soup:


Chanpuru:

MORE ABOUT THIS WEB SITE