okgourmet.com&nbsp &nbsp Home of Steve's Restaurant Reviews
Lupita's Tamales
6860 Doniphan Dr.
Canutillo, TX
(915) 877-2208
Lupita's Tamales is a take-out place on Doniphan Drive just south of Trans Mountain Drive in Canutillo, Texas. It is notable for the steady stream of customers that can be seen picking up large and small bags of food that are usually taken home for family feasts. Tamales seem to be customarily eaten on special occasions, and this may be because of the caloric and cholestoral consequences of eating them more frequently. The flavor of Lupita's tamales definitely lend themselves to being used as a special occasion treat.
Lupita's is not a restaurant, and does not supply tables to eat on site. Several types of burritos are served, but I think are only available at lunch. I am not sure about drinks that are available since I did not order any. If you are really adventurous you can try some other items available such as pigs' feet and turkey tail. The tamales, though, are Lupita's claim to fame.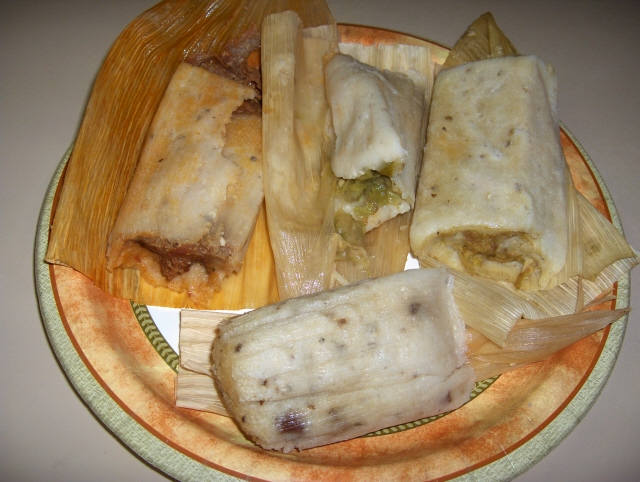 Clockwise from top left: red chile tamal with pork, tamal with chile con queso, green chile tamal with chicken, tamal dulce with raisins and anise
Lupita's has a large variety of tamales, and I found out that some of them sell out later in the day. The ones I was able to sample were probably the most popular, with larger quantities being produced. It was really hard to pick a favorite out of the ones pictured, but I would have to say for me it was the standard Red Chile Tamal with pork. For the Green Chile Chicken Tamal, I thought the ones at Little Diner were better (and less greasy). The Tamal Dulce was quite good, but I liked it as a supplement to the other types and not as a meal in itself. The sweet tamales at Little Diner were quite good also. I am not sure if Little Diner serves a Chile con Queso Tamal, but I really liked the one at Lupita's. If i didn't like the red one so much this would be my favorite.
Overall the tamales at Lupita's were some of the best I have ever eaten. The trouble is that they are too tempting to leave to special occasions.