okgourmet.com&nbsp &nbsp Home of Steve's Restaurant Reviews
La Hacienda (Closed)
1720 W. Paisano Dr.
El Paso, TX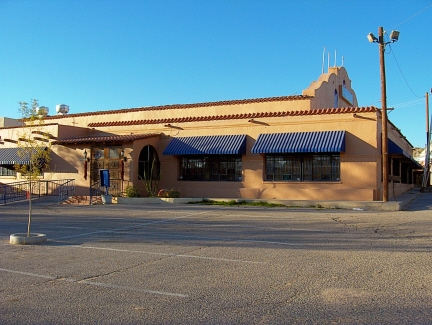 I ate at the "old" Hacienda dozens of times before it changed management and the whole staff left to start Amigos Restaurant. The restaurant closed and then reopened in its current incarnation. I had heard many bad reviews that frankly scared me away, but I finally decided it give it a try.
My assessment is that it is neither as good as the people who like it a lot say, nor is it nearly as bad as the bad reviews would lead you to believe. In fact, the Chile Relleno is actually quite good. I say "chile" (singular) because one will just about fill you up. Although I don't like the El Paso style of pouring ranchero sauce on top of it, this one actually has very good sauce (and cheese). Moreover, the egg batter was so good that it dominated the sauce, causing a really good balance of flavors. It was refreshing to have food that was hot enough to use the chips to cool it down a bit.
The Enchiladas were dark red, and although not the best in El Paso, were satisfying.
Probably the best part of going here is being in the historic building; it is almost like being in Santa Fe (actually you are a couple of hundred feet from Mexico).
The waitress I had was reviving something that is almost dead in El Paso-- providing good service.
Normally I don't care much for mariachi music but the band here is actually very good (and enjoyable).
Although I didn't try the more expensive items on the menu, I suspect they are a lot better than the standard fare of tacos, enchiladas, etc.
RESTAURANT DETAILS
RATING: 17
Cuisine: Mexican El Paso
Cost: $$
Smoking: No Smoking
| | |
| --- | --- |
| Chile Index: | |
Most Recent Visit
Feb. 6, 2004
Number of Visits: 1
Best Items
Chiles Rellenos, Enchiladas
Special Ratings
Chile Relleno:


Red Enchiladas:

MORE ABOUT THIS WEB SITE