okgourmet.com&nbsp &nbsp Home of Steve's Restaurant Reviews
Flautas Tepalca
6994 Doniphan Dr.
Canutillo, TX
(915) 877-3358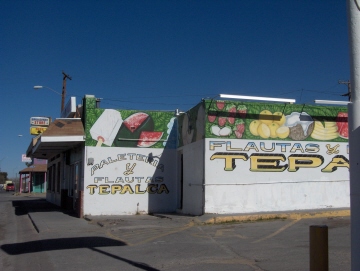 "Paletería y Flautas Tepalca" states on the menu that it has "Sabor y Frescura Auténtica de Michoacán," or "authentic freshness and flavor" of the Mexican state of Michoacán. This is one of those hole-in-the-wall places that makes you think you are in Mexico, so it might be worth a visit just for the experience.
There are only a few items on the menu, in fact it is easy to list all of them: flautas, tacos, tortas, corn dogs, hot dogs, papas (potatoes), hamburgers, nachos, and elotes (corn). There are no combination plates here, and in fact, some common border food items such as enchiladas and chiles rellenos are not served. You will also not get chips, although the salsa served with meals is some of the best anywhere.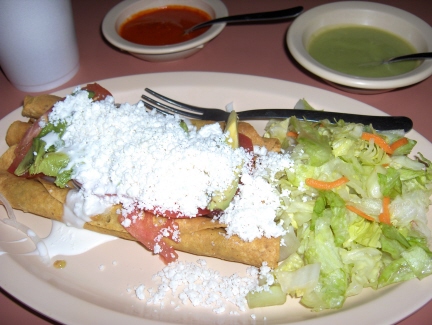 Flautas estilo de Michoacán
Flautas, the specialty of the house, are the most expensive item, with four of these brisket filled rolled and fried tortillas going for under $5. These flautas are totally decadent in a chowish way-- that is, these innocent looking flute-shaped objects will contribute to the deterioration of one's waistline and will tempt one to totally consume the mass pile of white ricotta-like cheese, chunks of avocado, and side salad as well as to soak up the crema in which it is floating and to pour on mass quantities of liquified guacamole and salsa served in side dishes. The filling consists of moist beef strips, and while I prefer some chicken flautas I have been served at some other restaurants, the toppings here are quite good and make these some of the "must try" flautas in the El Paso area.
This is not fine dining in any sense, but it is more like Mexican street food. The décor even looks like something from Mexico with colorful art covering the walls (in this case, the art work pictures the various menu items served).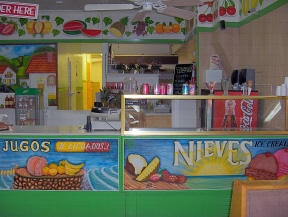 Jugos, nieves, and a lot more
The experience is topped off by the other items on the menu: Mexican fruit drinks and ice cream. There is just about every flavor of Agua Fresca, or fruit drink including Melón (canteloupe), Limonada, Horchata (rice drink), and some I have not seen anywhere else. I thought the agua fresca was a little sweet, but gives a very good example of this type of drink. A bonus is that they give free samples of various flavors in case you are unsure of the variety you would like best.
The most popular item here seems to be the Mexican ice cream. Paletas, made with water instead of cream, are excellent, and made in the restaurant.
It is a little difficult to recommend this place as a "must try" for visitors who will have limited meals in the El Paso area due to the extremely limited menu. Little Diner, also located in Canutillo (northwest of El Paso just off of Interstate 10) is one of the premier Mexican restaurants in El Paso County, and would be a good place to sample the border Mexican food. For the things Flautas Tepalca does, though, I think you can expect very high quality. The flautas here are quite unique in El Paso, and so far I have not run into anything quite the same anywhere else in the United States.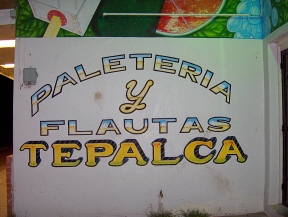 Paleteria y Flautas Tepalca is open until 10:00 p.m.
A meal elsewhere, though, could very well be topped off by dessert or an agua fresca drink to go from Flautas Tepalca. The new outlet mall being constructed at I-10 and Trans-Mountain Drive will be very convenient to both Little Diner and Flautas Tepalca, giving a wide choice of excellent food options (along with Canutillo's other eateries) in conjunction with a shopping trip.
RESTAURANT DETAILS
RATING: 22
Cuisine: Mexican Michoacán
Cost: $
Hours: Open Daily
Accessible: Yes
Smoking: No Smoking
| | |
| --- | --- |
| Chile Index: | |
Most Recent Visit
Feb. 23, 2008
Number of Visits: 6
Best Items
Flautas, Aguas Frescas
Special Ratings
Flautas:


Elotes:


Agua de Melón:


Paletas:


Salsa:

MORE ABOUT THIS WEB SITE