okgourmet.com&nbsp &nbsp Home of Steve's Restaurant Reviews
Ay Caramba!
6874 Doniphan Dr.
Canutillo, TX
(915) 877-2112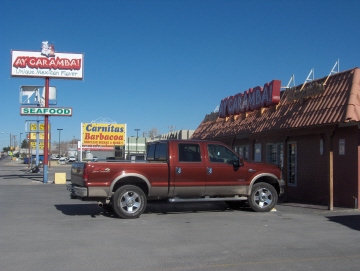 "Ay Caramba!," according to the restaurant's menu, "Is a typical Mexican expression that is used when there is a surprise, something spectacular occurs, or there is an experience out of the ordinary." The surprise to me is how a community as small as Canutillo can have so many good restaurants, including this one.
Located in the same small community as the more famous Little Diner, comparisons between the two are bound to arise. While Little Diner is famous for its gorditas and has other specialties such as green enchiladas and tamales, Ay Caramba excels in quite a few areas of its own.
A sign outside advertises "Seafood," and this is one of the good choices at Ay Caramba. Although I was a little intimidated by the name Diabla Fillet, the promise of fish with chipotle sauce was too much to resist. Starting out with an excellent vegetable soup, the entrée came on a huge plate with a salad and baked potato. I'm not sure how I feel about eating farm raised Tilapia, since wild fish always seems to be better, but having tilapia seems to be about the only way to get really fresh tasting fish in El Paso. It was a white, mild tasting filet with no "fishy" taste here. The diabla sauce was an even bigger treat with fresh chopped tomatoes, chiles, and the chipotle sauce that gave it its unique flavor.
The Baked Potato was almost perfection-- obviously not done in a microwave, but rather in the Mexican style, cooked in aluminum foil. If you're on a low carbohydrate diet it will be hard to choose between the potato and the large slices of Texas toast style bread, but I give the edge to the potato.
The Salad that came with the dinner was a definite plus-- it was one of the few I have found at Mexican restaurants that is actually enjoyable instead of just filling empty space on the plate.
The Salsa was one of the best I've ever had-- it was without a vinegary taste or strong seasonings of cilantro and other spices that many times just get in the way of the true flavor.
The Filete Ranchero was another style of preparing the fish-- I did not think it was quite as memorable as the one with chipotle sauce.
Standard Mexican menu items are also served, and I think offer both the best and the worst items served.
The Chicken Tampiqueña is one of the best dishes here, as it is at the El Paso location. The one I ordered here was served with a mild Muenster cheese, flavorful green chile strips, and an excellent spicy Red Enchilada on the side, just as at the El Paso location. I thought the chicken breast meat here was a little dry and tough, something I did not experience at the other restaurant. The overall expereience, though, was better here when taking into consideration the entire meal. The red chile here was hotter and had a deeper, richer chile flavor. The salad was fresh, the beans and rice were good, and the chips and salsa were hard to beat.
The Green Enchiladas were puréed, and I did not find them to have much flavor. An order of sour cream poured on top made them a lot better, but also jacked up the price. This is one example where one would be better advised to try the Little Diner.
Ay Caramba serves a variety of fresh drinks that I think add to the enjoyment of the meal. The fresh squeezed Lemonade was slightly sour, but an excellent refresher to the meal.
Ay Caramba had a short-lived location in Albuquerque, but apparently either the people up north did not fully appreciate El Paso style Mexican food or else Ay Caramba fell somewhat short in its execution (and this is very possible based on some of my experiences in El Paso). The Mesa Street location in El Paso definitely has some things that I like better than at the original Canutillo restaurant and some that I do not loke as much, and all indications are that each restaurant has quite a bit of latitude to prepare things their own way (I think there are a total of about four or five restaurants in the Ay Caramba! mini-chain).
One thing I like about the Canutillo location is that they have been open longer than the other restaurants, and have a consistency that I have not found in the El Paso restaurant (and that may not have been evident in Albuquerque). I can also say that the original Ay Caramba in Canutillo offers a more traditional Mexican style dining experience than the newer restaurants. This is a local restaurant that mainly attracts local people, and people in this area know good Mexican food.
RESTAURANT DETAILS
RATING: 21
Cuisine: Mexican El Paso
Cost: $$
Hours: Open Daily
Cooking Oil: Vegetable
Smoking: No Smoking
Alcohol: Beer and Wine
Special Features: Serves breakfast
| | |
| --- | --- |
| Chile Index: | |
Most Recent Visit
Jul. 8, 2006
Number of Visits: 4
Best Items
Chicken Tampiqueña, Seafood, Salsa
Special Ratings
Chicken Tampiqueña:


Filete Diabla:

Tilapia
Filete Ranchero:

Tilapia
Green Enchiladas:


Baked Potato:


Refried Beans:


Rice:


Chips:


Salsa:


Lemonade:

MORE ABOUT THIS WEB SITE