okgourmet.com&nbsp &nbsp Home of Steve's Restaurant Reviews
Al-Zaituna
4172 N. Mesa St.
El Paso, TX
(915) 838-1260

I have heard that El Paso attracts a number of immigrants from the Middle East because it has a similar climate and landscape to many of the Asian desert regions, and it does not have the type of cold weather that would increase new residents' feelings of being in an unfamiliar region. One aspect of the Middle East that is not easily forsaken, though, is the wonderful food with vibrant flavors and fresh ingredients. Middle Eastern food blends well with the Mexican tradition of obtaining fresh meat and vegetables from the market and using spices to enhance the flavors. Until recently it has been rather difficult to find the fresh ingredients necessary to make authentic tasting Middle Eastern food, but they are become more available in El Paso, with a shift away from the canned and dried foods that were formerly the only choice for many dishes.

This explanation (and possibly speculation) about the Middle Eastern food scene in El Paso is partly an attempt to understand why the city has a higher than normal share of this type of restaurant. In addition, though, I am trying to understand why Al-Zaituna seems to have improved since it opened. My first meal at the restaurant was one of the worst I have ever had at a Middle Eastern restaurant, with everything being deep fried (and not in a very flavorful manner) except the tabuleh. Since that time I have seen a vast improvement in the restaurant, and I think it is partially because of increased availablilty of fresh ingredients from Asia and the Mediterranean region (I have seen the same trend at Japanese and Chinese restaurants). I also think, though, that the best of Al-Zaituna cannot be found in the vegetarian dishes that I ordered on my first visit.

Al-Zaituna is located on Mesa Street near Executive Center Boulevard in a medium sized building with ample seating. This gives it an advantage over some of the other Middle Eastern restaurants in the UTEP area, and fortunately customers have several from which to choose. Mediterranean has been my favorite over the years, but mainly for a few specific items. I do not know enough about Sinbad to make an in-depth comparison. One advantage Al-Zaituna definitely has over Mediterranean is longer hours. I think Al-Zaituna might be slightly less expensive, but the difference is not great.

The Vegetarian Plate I ordered at Al-Zaituna in 2004 was definitely a disappointment. This contained six items--almost all of them were fried. Three items seemed so unappetizing I did not even touch them--fried potatoes, fried eggplant, and fried cauliflower. I had no particular desire to eat the hummus or falafel, but I was too hungry to leave them on the plate. Only the Tabuleh was genuinely good.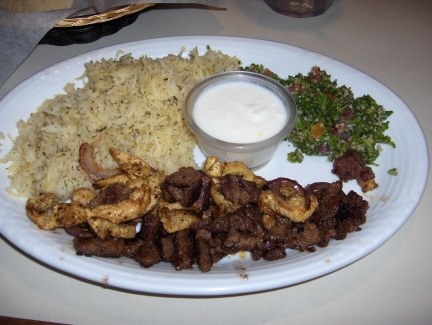 Gyros and chicken with rice and tabuleh
One of the readers of the web site suggested that I go back, and I am glad I gave it another try. Following his suggestion, I ordered the gyros on my first visit in 2007. Following the waiter's suggestion, I had a mixture of gyros and chicken on the Shawerma Plate, a combination plate that also includes tabuleh. The Tabuleh was good on my initial visit, but it seemed even better this time, with the fresh taste I expect from this type of salad. I would definitely rate the tabuleh as one of the best items at the restaurant.
Any suggestion that the Gyros was good was an understatement, with this being the ultimate in tender meat with the right spices. There was a lamb flavor but not the "gamey" type I sometimes find with barbacoa in Mexican restaurants. Athough gyros started out as Greek fast food, I think the one here should be classified as "fine dining."
The Rotisserie Chicken would not be my first choice for an entree, since the flavor did not stand out as one of the great chicken dishes I have tried. However, it made a great complement to the flavor of the gyros, and was of good quality. The spices were the factor that made the chicken better than it would otherwise be.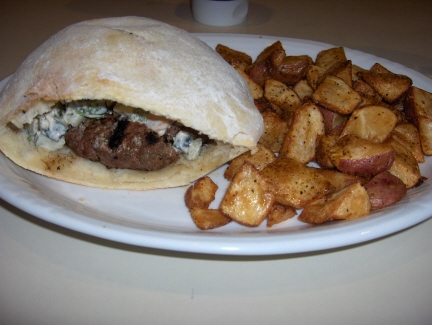 Kaftah kabob
Kafta Kabob was made with ground beef, and is available either on a sandwich or a plate. This was another good meat dish with flavorful spices. The pita played no small part in the sandwich's quality.
The Pita bread was notable not only for being the best I have tried in El Paso, but the only one that tastes to me as if it is home made. The one here was large and puffed up like a pie, with the rich flavor you get from freshly made bread. I am not saying that none of the other restaurants have home made pita, but the one at Al-Zaituna was the most obvious.
The Rice was flavorful and not too dry. I am not quite sure how to rate it since I was so impressed by the pita I did not pay much attention to the rice.
The gyros and tabuleh were top notch, and would place Al-Zaituna among some of the best Middle Eastern restaurants I have tried. In El Paso this would inlude the home made Lebanese food at Su Casa, where the tabouli is probably as good as the one at Al-Zaituna. To really enjoy Al-Zaituna, though, I think I need to avoid the fried vegetarian dishes.
Having Mediterranean as my "go to" Middle Eastern restaurant for a number of years, I had become accustomed to the excellent service and atmosphere there. Unfortunately I have not found the same at Al-Zaituna. For instance, there has been competing music coming from the speakers and even louder music coming from the kitchen, making me want to finish my meal and leave as soon as possible. It is somewhat risky to write about bad experiences since they may be different on subsequent visits, but it is probably best to warn readers about the possibility.
RESTAURANT DETAILS
RATING: 21
Cuisine: Middle Eastern
Cost: $$
Accessible: Yes
Smoking: No Smoking
Alcohol: No
Most Recent Visit
Mar. 16, 2008
Number of Visits: 3
Best Items
Gyros, Tabuleh
Special Ratings
Gyros:


Kaftah Kabob:


Rotisserie Chicken:


Tabuleh:


Hummus:


Falafel:


Pita Bread:

MORE ABOUT THIS WEB SITE