okgourmet.com&nbsp &nbsp Home of Steve's Restaurant Reviews
AJ's Diner
7102 N. Mesa St.
El Paso, TX
(915) 584-2514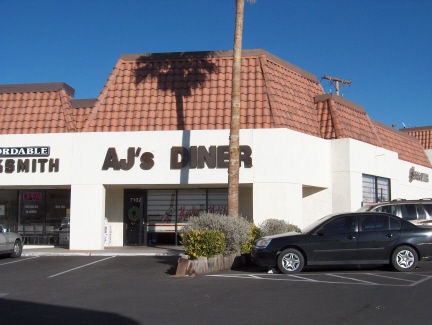 AJ's is a 1950's style diner, and perhaps in the 50's the food would have been considered pretty good, but I know my food tastes have progressed quite a bit past that point.
Several years ago I used to eat hamburgers here, and I thought they were OK, but overpriced. AJ's will substitute a grilled chicken breast for a burger, and this is what I prefer these days. The problem is, though, that I could get a much better chicken sandwich just down the street at Jaxon's for not that much more money (Note: Jaxon's closed in 2012). In my opinion there are better burgers in El Paso, but probably the only one in proximity to AJ's would be at Great American on Mesa Hills Drive.
AJ's has an old fashioned soda fountain, and for anything similar to this a person would probably have to go to Hudson's (but right now the only Hudson's still open is on Lee Trevino). In any case, AJ's serves a type of food that is pretty hard to find in El Paso, and is getting the same way in other cities as well.
One of the best features at AJ's is the photos of 1950's era autos on the walls. The place is clean, and is a good choice for family dining.
RESTAURANT DETAILS
RATING: 17
Cuisine: American
Cost: $$
Smoking: No Smoking
Most Recent Visit
Jan. 19, 2005
Number of Visits: 8
Special Ratings
Southwest Burger:

Grilled Chicken Breast
MORE ABOUT THIS WEB SITE