okgourmet.com&nbsp &nbsp Home of Steve's Restaurant Reviews
China Phoenix Restaurant
7090 N. Oracle Rd.
Tucson, AZ
(520) 531-0658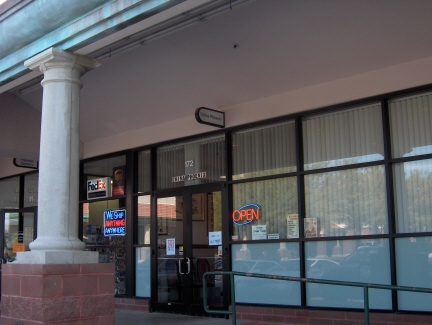 Just about all travel web sites have very good reviews of China Phoenix, but when items such as honey walnut shrimp and General Tso's chicken are recommended, it is hard to tell if it serves real Chinese food or a very good Americanized version. Its location in a strip shopping mall did not give me the greatest hope that I would find the "real deal" here, but in a desert Southwest city such as Tucson I am not sure what other options the restaurant would have for choosing a good location.
China Phoenix offers dim sum from 10 a.m. to 3 p.m. on Saturday and Sunday, so this in itself was a good sign. Along with Gee's Garden, these are the only Chinese restaurants in town to serve dim sum, so this has to be an indication that these restaurants are not strictly Americanized.
Dim sum is one of the traditions of Cantonese cuisine from southern China, associated with eating snacks or a light meal for breakfast or lunch. There are a few items on the menu at China Phoenix with stars indicating that they may be spicy Hunan or Szechuan style dishes, but the majority of the menu lists Cantonese dishes that in almost all cases are not spicy. Curry chicken is a traditional Cantonese style dish, but in almost all cases this style food uses different blends of spices and fresh ingredients to provide the flavor rather than simply trying to make it "hot." I suspect that China Phoenix would be able to prepare spicy Hunan and Szechuan dishes that were equally good as the Cantonese food, but I usually try to start out with the cuisine in which the restaurant specializes.
The section of the menu that seemed to offer the most authentic Cantonese food was the listing under "House Special Dishes." I would advise looking through all the sections since the "Fowl" section lists crispy fried duck and the "Pork" section lists deep fried pork chop with spicy salt, both of which are dishes I associate with Cantonese cooking. Clearly it is more important for customers to get something they like than something "authentic," but ordering from the "House Special Dishes" menu seems to be a very good way to explore the world of Cantonese cuisine and try things that are traditionally not found apart from West Coast or large city Chinese restaurants.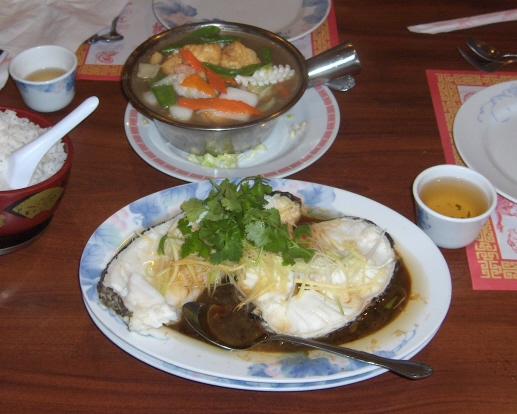 Steamed fish and seafood hot pot
One of my favorite dishes, but one which is hard to find at many restaurants, is Cantonese or Hong Kong style hot pot served in a heated metal or clay pot dish (the correct term for this dish would probably be "casserole" since "hot pot" generally refers to a large pot with a burner underneath). I generally prefer tofu hot pots, but I ordered the Seafood and Bean Cake Hot Pot at China Phoenix with the hope that the seafood would be of a high quality that matched the restaurant's appearance. Everything about this dish turned out to be superb including the way the tofu was cooked, and most of all the sauce. China Phoenix uses a white sauce as the broth for the hot pot, but it had a slight brown color that made it more flavorful than other white sauces I have tried. The seafood was not only fresher than I expected, but I thought it was better than many I have experienced on the west coast. Even the squid passed my "freshness" test by having the right flavor as well as not having a rubbery texture. The whole thing was just about the best seafood hot pot I have eaten, or any Cantonese style hot pot for that matter.
We also tried the Steamed Fish that was Chilean striped bass at the time (the restaurant uses whatever is available from the market). This had the classic ginger, scallion, and soy sauce dressing that brought out the flavor of steamed fish. The menu did not indicate, however, that this was a huge dish and could probably feed two people by itself. The fish did seem fresh but I will admit that I was not as impressed with the Chilean bass as with the seafood in the hot pot. If others are contemplating ordering the steamed fish, I would say to share it among at least three or four people and order other things to balance out the meal.
The hot tea was very high quality and also more expensive than at most restaurants. The food itself seemed expensive to me, but it was even more so for the "House Special Dishes." I thoroughly enjoyed the food, though, and next time will try to order something more economical than the steamed fish (I hope to have many next times at China Phoenix).
I do not know if I am rating the restaurant correctly based on a small sample of the food, but I know that what I tasted was among the best Chinese food I have sampled. I have no doubt that other dishes are just as good, or even better.
RESTAURANT DETAILS
RATING: 24
Cuisine: Chinese
Cost: $$$
Hours: Open Daily
Accessible: Yes
Tea: Jasmine (loose leaves)
MSG: No
Smoking: No Smoking
Special Features: Dim Sum Sat. & Sun.
Most Recent Visit
Nov. 6, 2007
Number of Visits: 1
Best Item
Seafood Hot Pot
Special Ratings
Seafood Hot Pot:


Steamed Fish:

Restaurant Web Site
China Phoenix
MORE ABOUT THIS WEB SITE