okgourmet.com&nbsp &nbsp Home of Steve's Restaurant Reviews
Arizona-Sonora Desert Museum
2021 N. Kinney Rd.
Tucson, AZ
(520) 883-2702
Home &nbsp > &nbsp Special Features &nbsp > &nbsp Articles &nbsp > &nbsp Arizona Articles
Nov. 6, 2007: Arizona-Sonora Desert Museum.&nbsp One of the best attractions in Tucson is the Arizona-Sonora Desert Museum located a short distance west of the city. The museum is a private non-profit organization that is financed entirely by admissions, memberships, and contributions. It is well worth a trip, with special activities going on all morning and into early afternoon. Because of the desert heat, not much is usually going on after about 2 p.m., although the exhibits are open and some are indoors.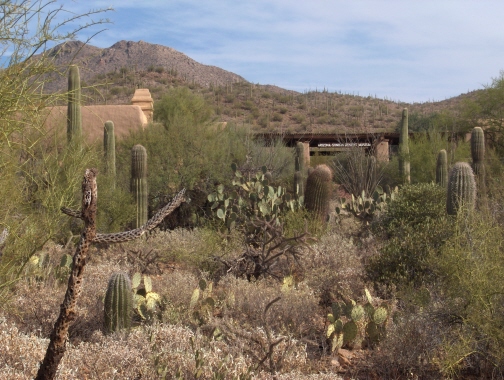 Arizona-Sonora Desert Museum at Tucson
The museum has built exhibits for plants and animals in their natural habitat that live anywhere in the Sonoran desert, covering much of Arizona and northern Mexico. I think I was surprised at the variety of animals that can survive in the desert.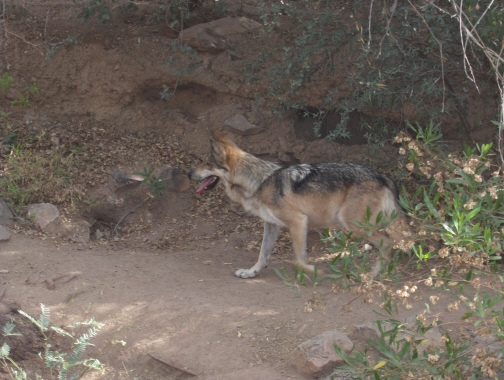 The Mexican wolf is one of the animals that lives at the museum
An exhibit of Mexican wolves is one example of the animals that can be found at the museum. One purpose of the museum is to provide a habitat for animals that have become very scarce in the wild.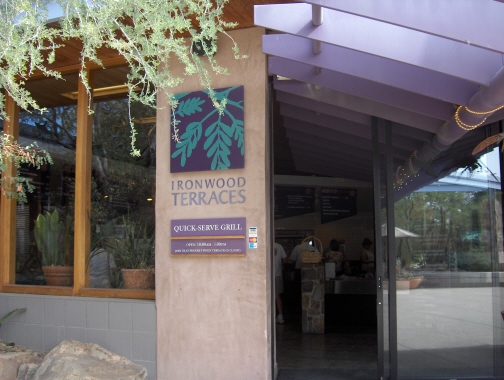 Ironwood Terraces is open for lunch
The museum also has several eating places, including the acclaimed Ocotillo Cafe that has limited hours in the summer: several days a week for lunch and Saturday evenings for dinner. Ironwood Terraces Restaurant is open for lunch all year and serves hamburgers, pizza, sandwiches, and Southwestern fare. I have it from a good source that the restaurant's wraps are outstanding.